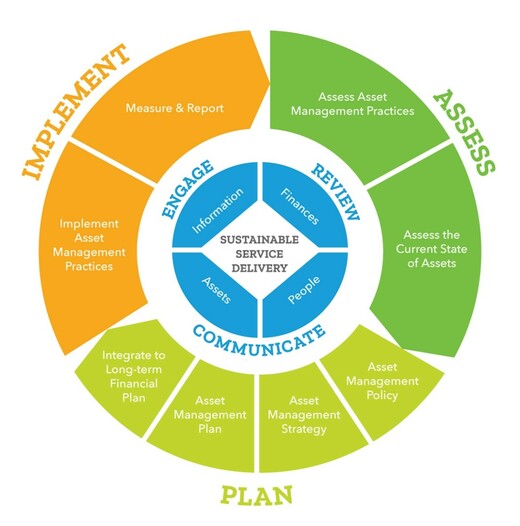 What is Asset Management?
Asset Management is an integrated set of strategies to support decisions pertaining to building, operating, maintenance, renewal, replacing and disposing of infrastructure assets. The objective is to effectively manage existing and new infrastructure to maximize benefits, reduce risk and optimize cost while providing satisfactory levels of service to the residents.
It is critical to understand the health of the Town's existing infrastructure and current challenges to continue to deliver a diverse array of services to its residents and plan effectively for a sustainable future.  A comprehensive Asset Management program is crucial to achieving these goals.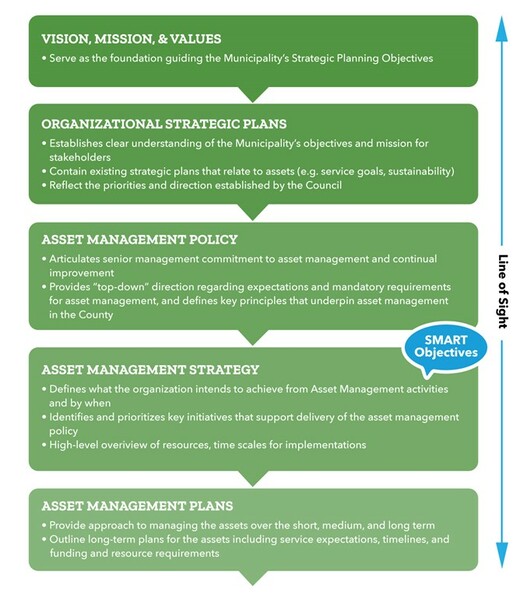 Our Approach to Asset Management
Step 1: assembling an Asset Management Team that allows for collaboration across all departments to meet our Asset Management objectives
Step 2: continually updating an database for the assets the Town is responsible for by through the Town's GIS system 
Step 3: keeping track of the condition of these assets, through condition assessments and other methods
Step 4: maintaining these assets to ensure they are used to their expected service life
Step 5: budgeting for necessary infrastructure replacement as efficiently as possible
Asset Management Policy
The Town has developed an asset management policy which defines the fundamental principles we are trying to achieve through the program, as follows:
Characterizes overarching principles to guide asset management initiatives while considering current and future needs
Outline principles that enable the Town to manage infrastructure assets in a way that is cost-effective and sustainable
Demonstrate principles that allow for environmental and fiscal stewardship relating to asset management
To read our full Asset Management Policy, click here. 
Asset Management Strategy
Building off the Asset Management Policy, our Strategy is intended to administer asset management initiatives by identifying strategies to improve asset management practices and achieve the program objectives.  Further, the Strategy identifies the relationship of the needs in the community and deliverable desired from the program.
To read our full Asset Management Strategy, click here.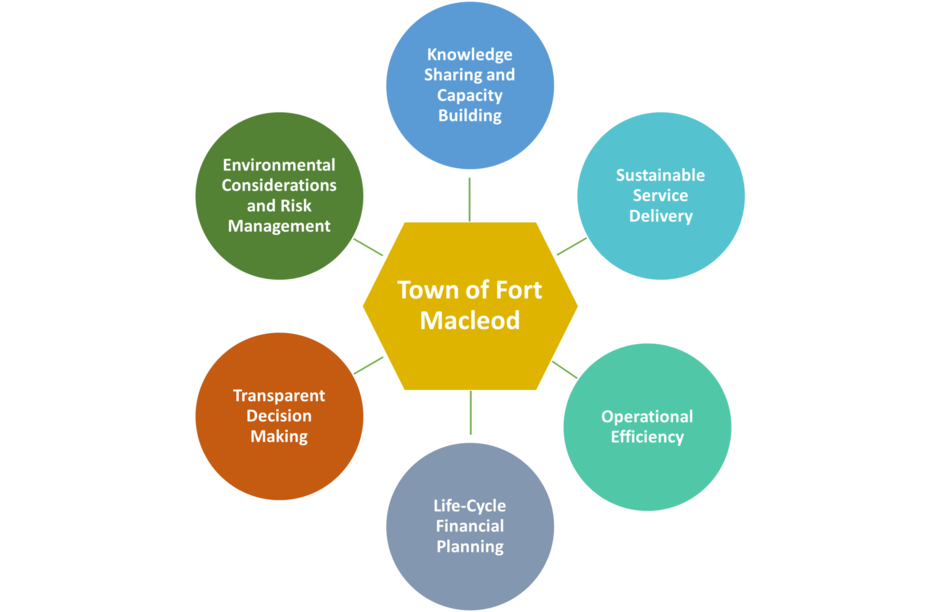 Asset Management Plan
The Plan is intended to be a very high-level view of the life cycle activities that the Town must execute to achieve our desired level of service goals as detailed in the Asset Management Strategy. This Plan identifies information on the assets the Town has, their condition, replacement costs, and potential failure impact.
To read our full Asset Management Plan, click here.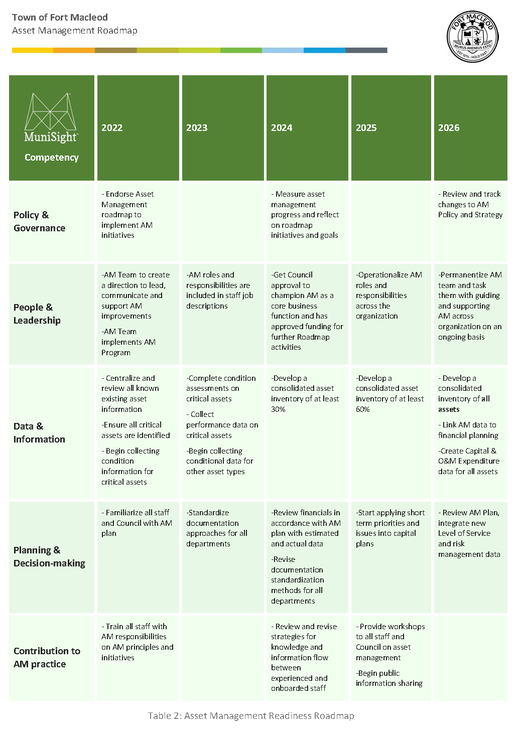 Asset Management Roadmap
Our Roadmap provides a long-term plan to identify and prioritize our desired asset 
management initiatives, while ensuring accountability throughout the program. The key items identified in the 
roadmap include:
Conducting a gap analysis of the municipality

Ensuring sufficient service delivery by assigning roles and responsibilities to staff, while considering future needs
Outlines asset management practices that enable the Town to manage assets in a sustainable manner
Sets milestones to guide the Town towards long term asset management goals
To read our full Asset Management Roadmap, click here.