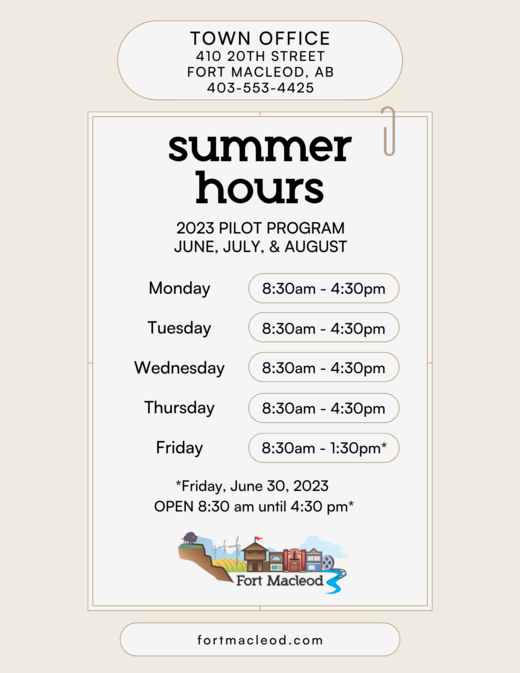 At the May 23, 2023, Town Council meeting, the Summer Hours Pilot Program was approved by Council. This program aims to promote employee well-being while maintaining exceptional services during the summer months of June, July, and August.
Effective the week of June 1, 2023, to August 25th, 2023, the Town Office adjusted operating hours are as follows:  

Town Office Hours:
Monday to Thursday: 8:30 am - 4:30 pm
Friday: 8:30 am - 1:30 pm *
* Note: On Friday, June 30, 2023, we will remain open until 4:30 pm to accommodate the tax payment deadline.
Rest assured; our dedicated staff will work their full-time hours with adjusted schedules. This decision reflects our commitment to fostering work-life balance and delivering outstanding service.
As always, in the case of an emergency when the office is closed, you can call our after-hours line at 403-308-0735. For additional inquiries regarding this modification, you can contact us during regular office hours at 403-553-4425.
Anthony Burdett
Chief Administrative Officer